iDrive Electronic Throttle Controller
SKU: IDRIVE-THROTTLE
The iDRIVE Throttle Controller eliminates throttle lag, increases throttle response, improves overall drivability and drastically changes the way your car drives. It features four driving modes and twenty adjustable settings, ensuring there is the perfect throttle response for any driving style or situation.
Economy Mode
Economy mode dampens your throttle response passed factory levels, the higher you go the more dampened your throttle becomes. Especially handy for low speed towing situations and off-roading when more controlled power application to the wheels is required.
Ultimate Mode
Ultimate performance mode sharpens your throttle response, the higher you go the more aggressive your throttle becomes. Ultimate mode has 9 settings and can be grouped into three stages: Ultimate mode 1-3: Everyday driving with smooth acceleration. Ultimate mode 4-6: Sportier, more responsive acceleration, great for use around town where short bursts of acceleration are required. Ultimate mode 7-9: Strap yourself in and activate launch control, instant throttle response, beast mode, don't say we didn't warn you. Also great for heavy towing situations when you need to compensate for the extra added weight.
AC Mode
Automatic control mode automatically selects the sensitivity level based on pedal pressure. If you are in traffic and accelerating gently the iDRIVE will automatically choose a reduced level of throttle response. If you accelerate hard for overtaking or just even just for fun the iDRIVE will choose a mode with an increased level of throttle response. Automatic Control mode is what makes iDRIVE the most intelligent throttle controller on the market.
Eight coloured faceplates are available as an adhesive application that sticks over the top of your existing white iDRIVE screen to alter the colour of your iDRIVE's interface. Pick your preferred option above.
| | |
| --- | --- |
| Brand | iDRIVE |
| SKU | IDRIVE-THROTTLE |
| Unit Of Measure | Each |
We Also Recommend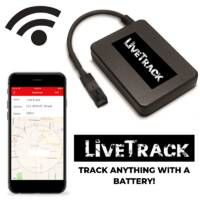 iDrive LiveTrack GPS Tracker
SKU: IDRIVE-LIVETRACK
$299.00
Free Shipping!